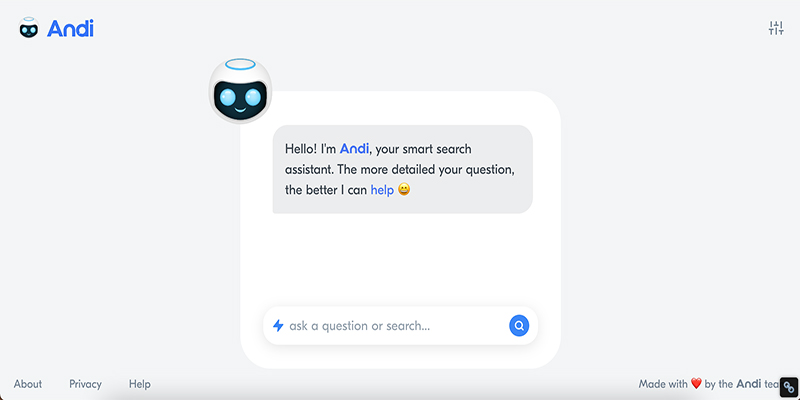 Andi Features
Andi, a search engine fueled by generative AI, revolutionizes the search experience by delivering direct answers instead of mere links. With its advanced filtering capabilities, Andi ensures high-quality content and accurately summarizes results through the power of generative AI.
Key features and advantages include:

Conversational search: Andi offers a chatbot interface that allows users to type queries and receive answers in a conversational style, enhancing the user experience and making information retrieval more engaging and interactive.
Personalized experience: Andi provides a search experience that feels akin to having a conversation with an intelligent friend, fostering a natural and intuitive interaction that makes information retrieval both effortless and enjoyable.
Additional features: Andi ensures an ad-free and anonymous search experience, prioritizing user privacy. Alongside these benefits, it offers a range of intriguing features, including:
Reader-view mode: Enjoy articles in a seamless ad-free view through Andi's interface.
Summarize: Receive immediate concise summaries of online pages through Andi's instant summarization feature.
Explain: Simplify complex topics with ease as Andi provides clear and simplified explanations.
Text generation: Experience factually accurate content generation with Andi's prompt-driven capabilities. Simply ask Andi to "Write," "Brainstorm," "Create," or "Draft," and it will assist you in generating high-quality content.