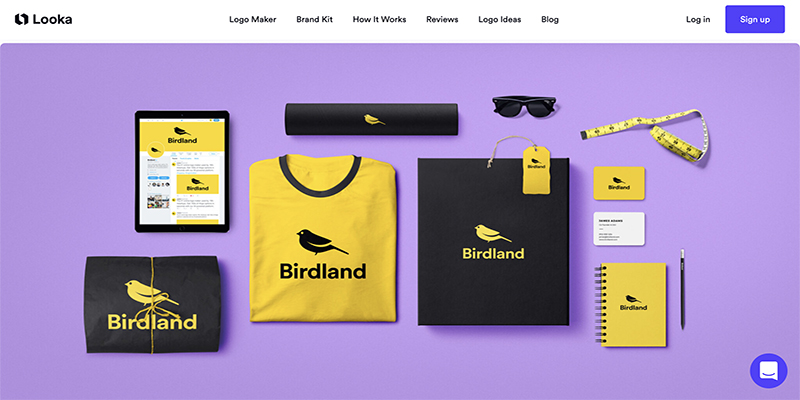 Looka Features
Looka offers a range of features to simplify the process of creating a unique and professional brand identity. Some key Looka features include:
Logo Maker: Looka's AI-powered logo maker allows users to design stunning logos by selecting from a vast library of icons, fonts, and colors. The platform provides creative suggestions and customization options to tailor the logo to the brand's vision.
Brand Guidelines: Looka generates comprehensive brand guidelines that outline the logo's usage, color palettes, typography, and other design elements. This ensures brand consistency across various platforms and materials.
Business Card Maker: Looka provides a simple tool to design professional business cards that complement the brand's logo and identity. Users can select templates or customize the cards according to their preferences.
Social Media Kit: Looka offers pre-sized graphics optimized for various social media platforms, allowing users to easily apply their brand identity to social media profiles, posts, and ads.
Website Builder: Looka's website builder enables users to create a visually appealing and responsive website that aligns with their brand's aesthetic. The platform offers user-friendly templates and customization options for easy website creation.
Print Materials: Looka allows users to design and order branded merchandise and promotional materials, such as t-shirts, mugs, and banners, to help promote their brand.
Mockups: Looka generates realistic mockups of logos and branded materials on various items and settings, helping users visualize how their brand will appear in real-world scenarios.
Collaboration and Sharing: Looka enables collaborative design, allowing team members to work together on brand assets and share designs with stakeholders for feedback and approval.
Use Cases:
Looka's versatile features cater to a wide range of use cases, including:
Startups and Small Businesses: Startups and small businesses can use Looka to design eye-catching logos and create a complete brand identity, helping establish a strong and memorable presence in the market.
Entrepreneurs and Freelancers: Entrepreneurs and freelancers can utilize Looka to create professional logos, business cards, and social media graphics, enhancing their personal brand and attracting potential clients.
Rebranding and Refreshing: Companies looking to rebrand or refresh their image can leverage Looka's tools to design new logos, update brand guidelines, and create consistent visuals across all platforms.
Social Media Marketing: Digital marketers and social media managers can use Looka's social media kit to create engaging graphics and maintain a consistent brand presence on various social media platforms.
Personal Projects and Blogs: Individuals working on personal projects, blogs, or creative endeavors can benefit from Looka's logo maker and website builder to establish a cohesive brand identity online.
Event Branding: Event organizers can use Looka to design logos and promotional materials for conferences, trade shows, or other events, ensuring a professional and visually appealing brand representation.
Merchandise and Promotional Materials: E-commerce businesses and brands can create branded merchandise, such as t-shirts, mugs, and banners, using Looka's print materials feature for effective promotional efforts.
Team Collaboration: Looka's collaborative design tools are ideal for teams working on branding projects, enabling seamless communication and coordination among team members.
Discover the transformative potential of AI as you craft a captivating logo and cohesive brand identity with Looka Logo Maker. Elevate your business above the competition right from the start, leaving a lasting impression on your audience.