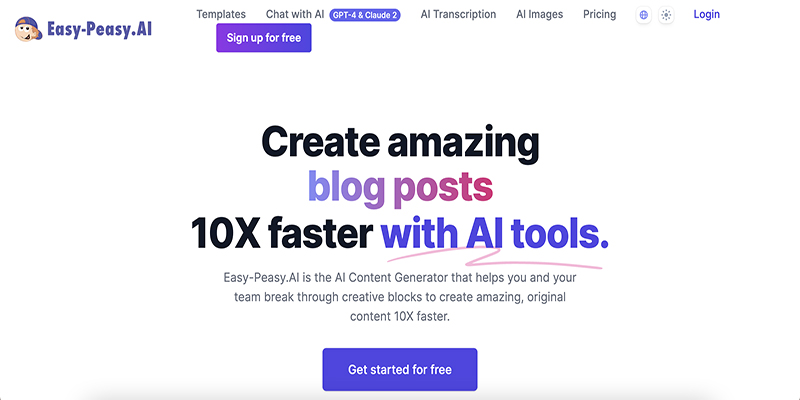 Easy-Peasy.AI Features
Easy-Peasy.AI is an AI-powered content assistant designed to streamline content creation for you and your team. Key features and advantages include:
AI copywriting templates: More than 80 templates available for creating compelling and polished written content.
AI images: Generate stunning visuals with ease
Language Translation: The platform could offer language translation services, enabling users to easily translate text or speech between different languages.
Advanced Language Understanding: Easy-Peasy.AI excels in accurately understanding and comprehending user queries.
Contextual Conversations: The model is adept at handling context and engaging in natural, multi-turn conversations.
Seamless Integration: Easy-Peasy.AI can seamlessly integrate with other applications and services, providing a cohesive user experience.
Use cases for Easy-Peasy.AI
Content Generation: The platform could generate written content, such as articles, blog posts, or marketing copy, based on user inputs and desired styles.
Virtual Assistants: Easy-Peasy.AI could be used to create virtual assistants that help users with tasks such as scheduling appointments, setting reminders, answering questions, and providing personalized recommendations.
Entertainment: The platform could create AI-generated content for entertainment purposes, such as generating art, music, or interactive stories.