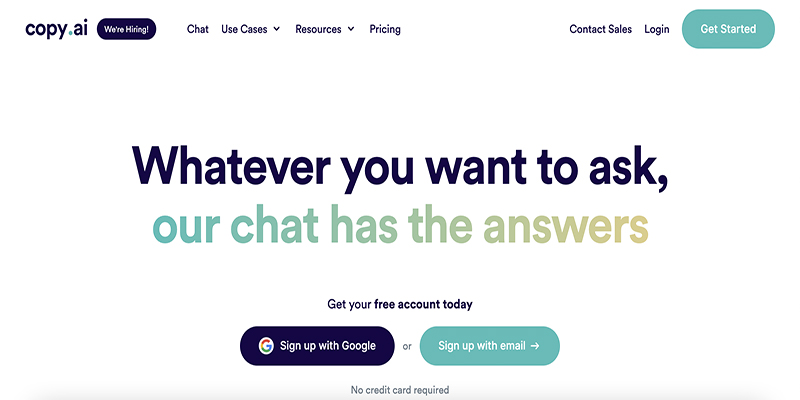 Table of content
Copy.ai Features
Copy.ai is a revolutionary AI-powered content generator that empowers you to effortlessly create top-notch content for a wide range of purposes. Some of the key use cases include:
Blog Writers: With Copy.ai, you can supercharge your blogging process and write articles with unparalleled speed, allowing you to create captivating blog posts in a fraction of the time. Say goodbye to writer's block and unleash your creativity like never before.
Social Media Managers: Boost your conversion rates with Copy.ai, the ultimate tool for crafting highly persuasive and compelling posts. Whether you're creating engaging social media content or crafting sales-driven blog articles, Copy.ai empowers you to write with precision and captivate your audience, leading to higher conversions and business success.
Email Marketers: Elevate your email game with Copy.ai and effortlessly create captivating and engaging emails. Whether you're sending out newsletters, promotional campaigns, or personalized messages, our AI-powered content generator enables you to craft emails that resonate with your audience and drive better engagement. Say goodbye to writer's block and hello to impactful email communication that leaves a lasting impression on your recipients.
Features:
Access a vast collection of over 90 tools and templates at your fingertips with Copy.ai.
With Copy.ai, you have the ability to write content in more than 29 languages.
The platform is trusted by over 7,000,000 professionals and teams worldwide.
Sign up for a free account and enjoy the benefits of Copy.ai with 2,000 free words every month.
Use Cases:
Blog Content
Sales Copy
Digital Ad Copy
Social Media Content
eCommerce Copy
Website Copy
How it works:
Submit your copywriting project, whether it's emails, social posts, long-form blog posts, or any other type of content, and let us work our magic.
Provide Copy.ai with some context about your brand and products to help us understand your business better.
Review and analyze the AI-generated results to find the most suitable and compelling content for your needs.
Edit, refine, and perfect the content using Copy.ai's intuitive editor.