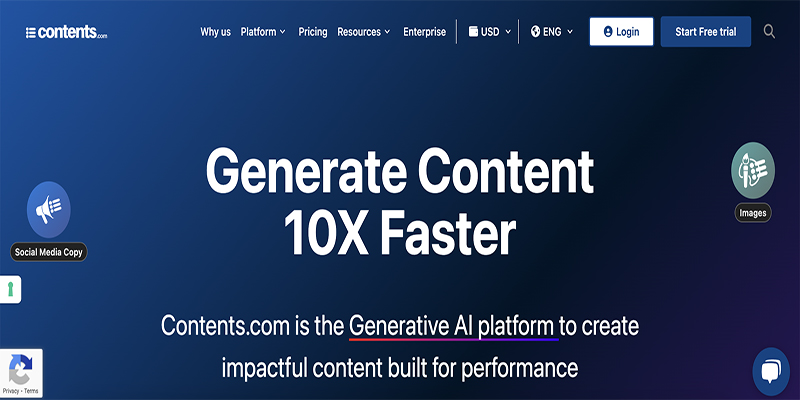 Table of content
Contents Features
Contents, powered by the state-of-the-art GPT-4, is a comprehensive platform that simplifies and enhances content creation. From SEO texts to captivating images, social media posts to irresistible product descriptions, and engaging blog articles, we've got you covered. Experience the power of Contents and unlock the potential for easy, high-quality content creation.
Key Features
AI-driven content generation: Tap into the immense power of GPT-4 technology to effortlessly generate top-notch content across a wide range of formats.
Optimized SEO texts: Elevate your online presence by crafting search engine optimized content that enhances your visibility on the web.
Engaging images: Immerse your content in visually captivating allure by exploring a vast collection of engaging images that amplify its visual appeal.
Product descriptions: Master the art of crafting irresistible product descriptions tailored specifically for e-commerce platforms, capturing the attention of your potential customers and enticing them to make a purchase.
Informative blog articles: Generate blog articles that not only inform but also captivate your audience, driving significant traffic to your platform and establishing your authority as a thought leader in your industry.
Use Cases:
Take your content marketing strategy to new heights by incorporating optimized SEO texts, captivating images, and engaging social media posts. Elevate your brand's online presence and captivate your audience with compelling and visually appealing content.
Transform your product descriptions for e-commerce platforms into persuasive masterpieces that entice and convert potential customers.
Drive traffic to your website and establish yourself as a thought leader in your industry by generating informative and captivating blog articles. Become a trusted source of valuable insights and engage your audience with compelling content.
Unleash the full potential of Contents.com, the comprehensive platform that revolutionizes content creation with its innovative approach and commitment to delivering high-quality results.